Getting into the battle against any opposition, you need a great Game Plan to help you design the best strategies, make the best decisions, and execute the best actions. Your "Game Plan" is your best chance of winning. Without it, you will definitely lose before the battle begins and you will waste both time and resources.
A "Game Plan" is a set of strategies and tactics with actionable steps that will help you achieve the goals. It gives you the best possible set of outcomes based on the inputs and resources that you have. A "Game Plan" tells your leader the what, the how, the when and the why of achieving goals. A Game Plan is all about taking control of the business and ensuring that you will be, ultimately, the winner.
In any sport, a great team needs several game plans for its players to be adjusted to a changing situation on the turf. The winning organization also inevitably needs the Winning Game Plan which is a variety of strategic plans prepared beforehand to deal with different anticipated circumstances the organization is facing. In order to create a successful game plan, 4 key components will be taken into account;
THE 4 KEY COMPONENTS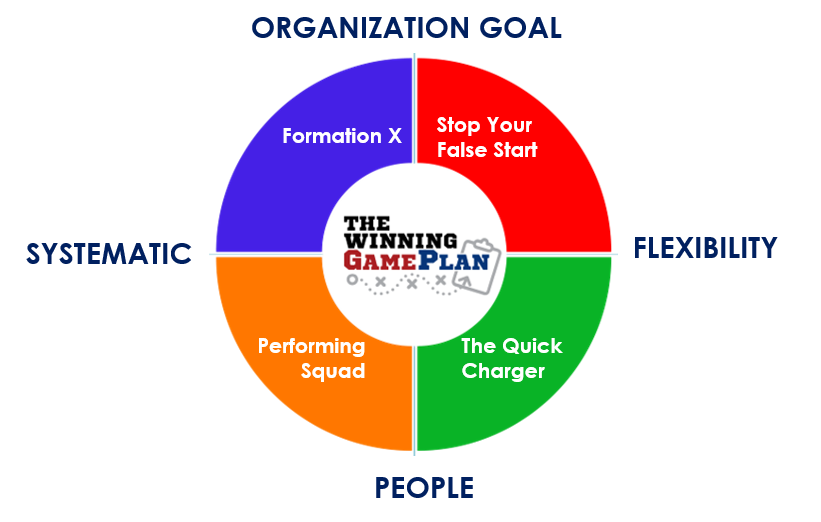 ORGANIZATION GOAL
The organization needs to assure that the organization goal is in accordance with the its vision before creating the Winning Game Plan. The clear organization goal will ascertain that the game plan will be executed successfully as desired.
SYSTEMATIC
To create a successful Winning Game Plan, the organization needs both systematic thinking and execution. The business game plan, therefore, relies on how the organization can make a clearly systematic execution to achieve anticipated goal.
FLEXIBILITY
With a rapidly changing business environment, the organization needs to take that change into account when it designs a flexible Game Plan that can suitably cope with any uncertain circumstance which gets more intense and interrelated around the world.
PEOPLE
People or Team is the most important component of the Winning Game Plan. Every team member needs to clearly understand the game plan in order to execute the right plan for different business circumstance.
PLAY SHEETS
Play Sheets are the collection of strategies which are readily prepared to cope with any circumstance the organization is facing. 4 essential Play Sheets of the Winning Game Plan are as follows;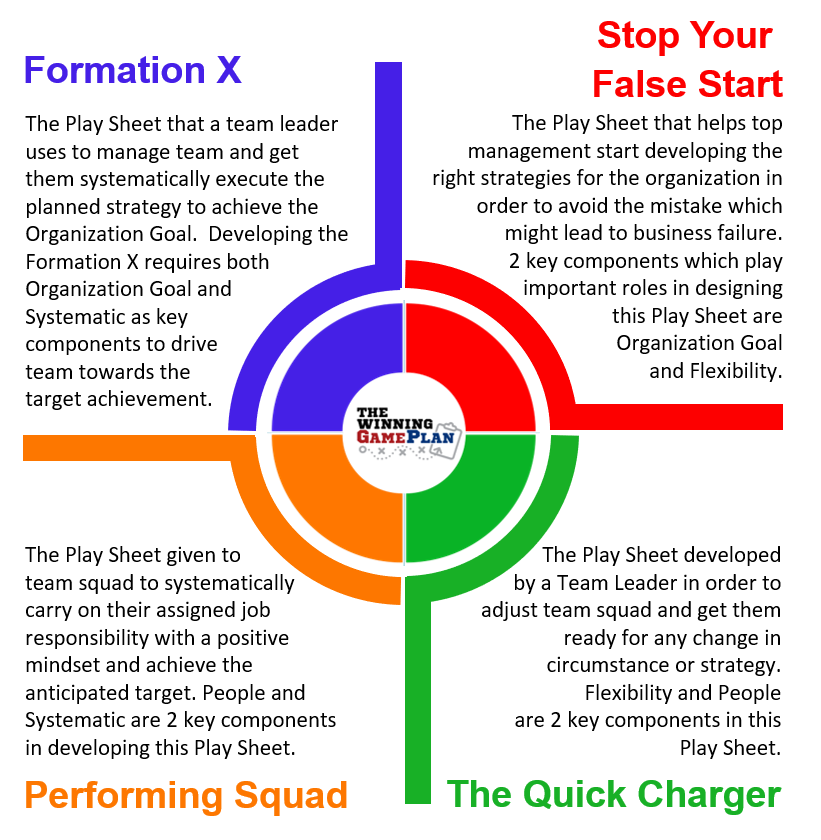 DELIVERABLE PROCESS
•The Virtual Programs that focuses on Company's Business performance.
•The hand-on process to help participants develop Skills, Mindset and Action Plan.

We will Collaborate as a partnership to analyze primary information in order that we can support your implementation to reach your organization's expected outcomes